Adult Coloring Is Hard
I used to color a lot when I was younger, I don't mean just in my teen years I mean well into college and beyond years.
But as the years ticked on and I got older, got married, got some kids, got responsibilities and some things in life just change you. And then you change so much that you no longer remember that you colored and enjoyed drawing and being excited about it.
Mental Health is something that is really being focused on lately and it's about time! I didn't even know I was an anxious person until a car accident and I started to see a Psychologist. And one of the things my psychologist told me about was these adult coloring pages. At first I was really excited about it! I remembered that I used to love drawing and coloring! It was very relaxing and very fun! And apparently it's mentally good for you!
Adult colouring pages! The new thing in mental health! Next to proper diet, exercise which both need like serious will power, colouring is fun – no will power required!
The one my psychologist gave me just wasn't doing it for me. So I surfed the net for some one's that appealed to me. I found this great blog that points you to awesome free printable pages! http://www.everythingetsy.com/2015/08/printable-coloring-pages-for-adults-15-free-designs/
I printed these 2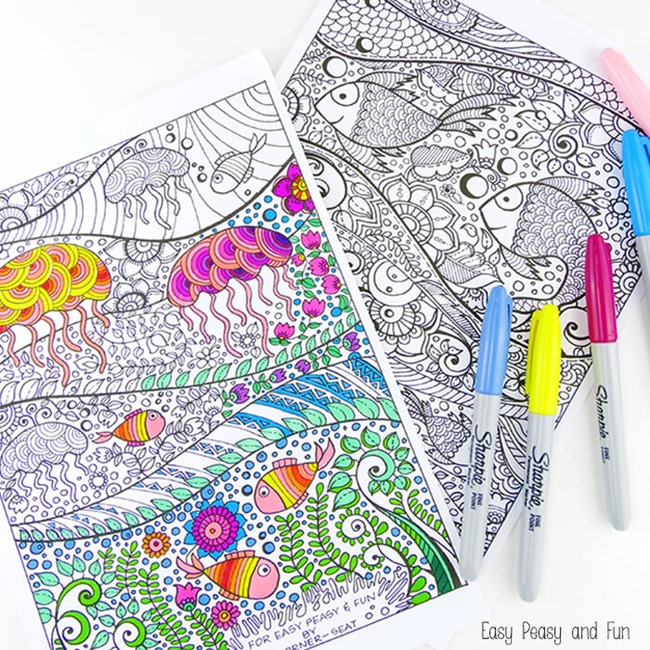 My favorite honestly is the fishes!!!
And then some one's from amazon that peeked my interest. These 2 were my favorite
Tribal Life – perfect for both guys and gals
Colour me Calm – my 2nd fave, perfect combo of detail and design
So I got my colouring stuff and was all set and ready to color with a fresh new case of Laurentian pencils. I quickly realized though, I was really sucking. The colors I was using were all over the place and the more I colored the less aesthetically pleasing it was. God, the more I tried to make it look good the more stressful it got. Why wasn't I just enjoying this?
Some of the shapes and designs area's weren't 100% symmetrical, and other times it was just the colors I was using weren't making it pop out. I was over thinking it and making something that was supposed to be fun into a freaking annoyance. I talked to some of my friends about it, and one of them suggested studying online for color schemes and learning how to use the right colors to make a more aesthetically pleasing page….really? I'm going to have to study how to color to relieve my anxiety?
These pages were causing a lot of anxiety for me. It wasn't working. When I told my psychologist this, I honestly think she probably thought 'what the heck are you doing???' in her head. And that made me more anxious thinking about how anxious I was being about coloring. And its' true, what the heck am I doing? This is about coloring and having fun, making mistakes and accepting them and letting it pass. This isn't about looking good or producing something that looks good but something to learn patience from.
I decided that I'm going to print out a new page and go nuts! Have fun and forget about aesthetics and just randomly color and just have fun with it! And I even printed one for my daughter. It will be fun to color with her and learn from her how to just wing and have fun. To be thoughtless for once in doing something. To not over-think or even think. To make something that might not look good but accepting it and being proud of it. I don't have to try hard on every thing. Maybe the reason why none of the other methods for anxiety are working because I over-think it and try too hard on it. I need to just let it be.
If you want to get started right now, here are a few FREE printables!
1) Sailboat
I remember a long time ago, when I was in college I believe, I was feeling anxious. I was going through some tough circumstances and things in my life didn't feel fair and I didn't know how to stand up for myself. I was actually sad a lot those times. But one day I literally woke up, felt the sun on my face and said "I am not going to be sad anymore!" And I actually just did life, instead of thinking about things. I made some mistakes and I wish I could go back and fix them because I think I would have been able to achieve a lot of great stuff.  I also wish I could go back and not let that car accident happen that would probably end all my current pain and anxiety. But that's okay, I have a great husband, 2 wonderful kids and yes it's not all good- there are some bad days and bad things. But I will color myself out of those bad days by relearning how to just let it be and let it go.
And now, to color.
Good Luck!
😀